Search Retargeting & Geofencing
A frozen food manufacturer was looking to build awareness around two brands of healthy frozen meals, including a newly launched product line. Their challenge was to target shoppers who were unfamiliar with their brands in order to bring them into the sales funnel. Additionally, they wanted to reach consumers who were already aware of their brands to promote the new product line and guide them from the awareness stage into the consideration stage. The campaign created featured Geofencing, Search Retargeting, Category Contextual Targeting, and Site Retargeting to reach relevant shoppers who may not be familiar with the brands in order to engage grocery consumers during the awareness and consideration stage of the marketing lifecycle.
First, the team geofenced individual grocery stores in which the manufacturer's products were sold to reach relevant grocery shoppers. Next, custom keyword and category lists were created to reach users who were searching for and reading about food-related items to bring them into the purchasing funnel.
Then, Site Retargeting was deployed to reinforce the messaging and promote the new product line to users who have visited the brand's website. Like many upper-funnel programmatic advertisers, the frozen food company wanted to use their existing video assets to focus on branding, while also enjoying the added benefits of improved targeting and measurement compared to traditional TV advertising. Therefore, each targeting tactic supported a combination of Display, Video, and Native Ads to reach users across channels and mediums.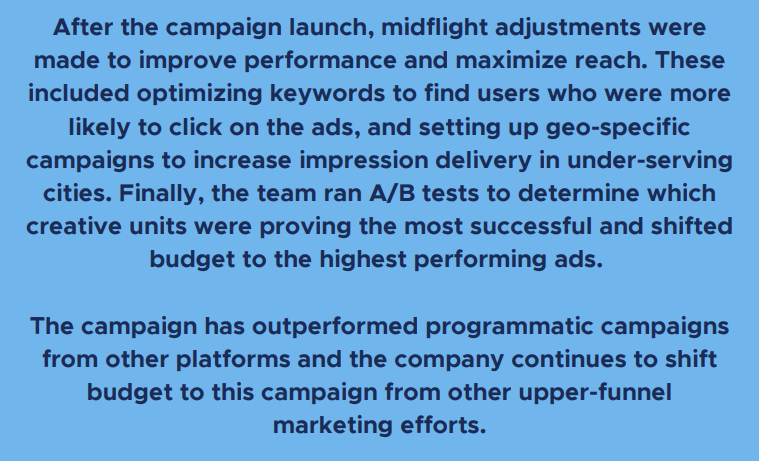 .3% Click-Through-Rate
Positive lift in awareness and sales of the two brands as well as the new product line