We've been around Colorado Springs helping businesses with their marketing and advertising since Bill Clinton was president. Our team has deep roots in Marketing and Advertising as well as the Colorado Springs area. Colorado Springs is our home and people around the city know us as an honest, hardworking agency. That being said, we can never have too much feedback and as an agency offering digital marketing services, we know how important it is to have a solid digital presence. That's why we've recently started collecting reviews on Clutch.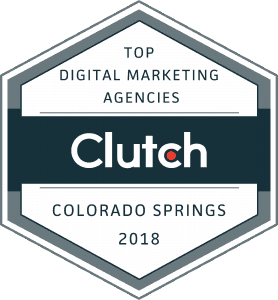 Clutch is a B2B service company ratings and reviews platform. As a third party, they conduct review calls with our clients that turn into case study style reviews on our Clutch profile. These reviews feed into their research so that they can rank digital marketing and advertising companies based on their reviews, marketing presence and clients. We only joined Clutch a few months ago, and we already have 7 reviews on their platform. With a 4.9 stars out of 5, we're assured that NLA Media is providing the best work for the businesses we serve. Our first reviewer, Jack Breslin, the director of marketing for Triple Crown Casinos, said this about the services we provide him,
"They're proactive in bringing new ideas and concepts to us, especially in the digital realm."
A local business owner, Ryan Unseth, really appreciated how effective our work was for his business. He said,
"We received 65 phone calls last month compared to just 17 the April of the year prior."
With all the great feedback we've been getting from our clients on Clutch, we've landed at the top of their Colorado Springs Digital Marketing Agencies directory. We are also featured at the top of a few of their other directories including their local SEO directory. This is an amazing accomplishment seeing as we've only been on the platform for a few months! Going forward, we'll continue to collect reviews on Clutch's platform so that we are always keeping a pulse on how satisfied our clients are…Also to maintain our leadership as a top digital marketing agency in the area.
If you're interested in working with NLA Media, we encourage you to see all the great content we have on our website including our other blog posts and our portfolio. Whether you're working with us currently, or thinking about working with our team, check out our Clutch profile to leave us a review or read about the experience our clients have had with us.