We Are A Network Television Advertising Agency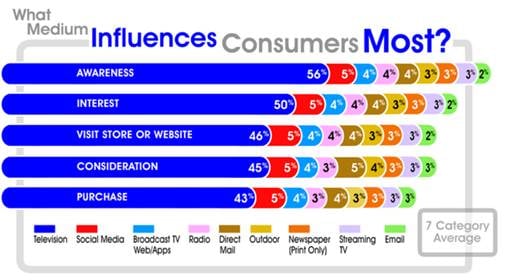 Television works. It's as simple as that. Since the invention of the television in 1947, it has been the most powerful and influential medium to reach the masses. Even with the emergence of streaming television over the last few years, network television remains the top dog. Did you know adults spend almost 5 hours every day watching live and pre-recorded television each day? When comparing the amount of time adult consumers spend watching television to the amount of time they spend with other media, television is the winner in every single demographic category.
TV Advertising With Newell Ledbetter Advertising Agency
There is a lot that goes into television advertising. Utilizing NLA Media to write, produce, and execute your commercial will save you time, money, and energy. Using this medium of advertising involves navigating complex systems, local and national negotiations, as well as market and ad placement research. Knowing the markets and their demographics requires consistent monitoring of demographic statistics and analysis.
At NLA Media, we spend our time researching the ongoing changes within our client's target markets. This helps our clients get the best results for their budgets. We also carefully plan the placement of each of your company's commercials so that your target audience sees your ad as many times as possible. Since our agency's inception in 1996, we have utilized proven advertising formulas to get results. We eliminate the mistakes businesses often make when utilizing more complicated media outlets, like television.
Curious about what we have accomplished? Take a look at our Television Portfolio here.
To start a conversation, Contact Us or give us a quick call at